Government Resources
For the latest information on what to do to protect yourself and others, please check the NHS website. Here are some general resources about coronavirus (covid-19) which have been produced to support people with a learning disability and their families and carers, but that apply to us all.
Volunteers
Local Help is Available
If you need help with shopping, collecting prescriptions or just want a chat, you are welcome to call on the volunteers who are listed below.
Local Volunteers Needed
If you would like to help vulnerable people get essential supplies in Mundford, Cranwich or Ickburgh, please contact the Parish Clerk, with your name, address, telephone number and the hours at which you are available.
Volunteers Available Now
Please have your money ready to pay for your goods.
Angelika Peters Dennis – 07883 077297 (8am to 8pm, but can be flexible)
Jan Grace – 01842 878323 / 07532 423023 (8am to 6pm)
Julie Pullen – 07366 609243 (8am to 8pm, but can be flexible)
Hayley Rose – 07804 582220 (Text message only please. Can drop off food from CostCutters 1pm-3pm.)
Sarah Pymer – please contact the office (flexible hours)
Serena Barnes – 07769 680762 (8am to 8pm)
Ricky – 07805 572097
Christine – 07902 616136
Marise – 07795 466646
Molly – 07949 622488
Sam Fricker – 07546 599160
Helen Hall – 01842 879766
Stefan Eyres – 07980 367879 (8am to 6pm)
Clare Pattison – please contact the office if you would like to receive a letter or phone call
Deborah Codd – 07825 131098 (9am to 6pm)
Lorna Soar – 01842 878773 / 07540 265831 (9am to 6pm)
Trina Braddick – 07375 860919
Voluntary Norfolk, Momentum and Community Action Norfolk are working with Norfolk County Council and local health providers to recruit volunteers for a countywide effort to respond to the Coronavirus (Covid-19) crisis. We are particularly keen to hear from people who have the skills to volunteer in health and social care roles, which have been identified as priority areas. If you are interested, please click to register.
---
Delivery Services
Feltwell Golf Club are kindly offering a home cooked meal delivery service. For full details, please click to read the menu.
Yallops (CostCutters) are offering a home delivery service, call 01842 878287.
---
Cancellations
The Annual Parish Meeting on 2nd April has been cancelled.
Mundford's Community Car Scheme has been suspended for the time being.
There are no services at St Leonard's Church, or any other churches, until further notice. For further information, please refer to the noticeboard or click to view the church services page.
Swaffham Market has been cancelled for the time being.
---
Due to recent advice from the government, Mundford Parish Council have decided to close the office for the time being. All contact should be by email or telephone. The clerk will check telephone messages a couple of times a week. The clerk will be available by email at the usual times of Monday to Friday, 9am to 11am. The council apologise for any inconvenience.
---
About Mundford
Now a Parish of approximately 2000 acres with 670 homes and population of around 1600, located almost at the mid-point between Kings Lynn, Bury St Edmunds and Norwich; Mundford enjoys a very rural position at the centre of the 'Brecklands' region and within the boundaries of the Thetford Chase Forest.
Unlike many modern villages, Mundford is fortunate in that it retains a Village School, Village Hall, sports clubs, Post Office, Butchers, Newsagents, Hairdressers, Pub, Church and other facilities; thus retaining much more of a 'community spirit' than is usually found nowadays when many villages become 'dormitories' for people that work elsewhere, or have their souls destroyed by being 'bought up' as second homes and the owners are only there for a few weeks of the year.
Those privileged to live here, do so under the stewardship of a strong and active Parish Council who have embarked on the long term project of creating a 'garden village'; with annual bulb planting project and continued support for floral projects within the village.
History of Mundford | Map of Mundford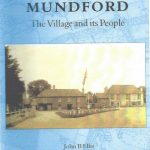 Local resident, Barry Ellis, has written a book 'Mundford – The Village and its People'. The book is available from the Parish Office, A4 hardback £20.00. To obtain your copy, contact the Parish Clerk. ...
Read More »
---
We currently do not have any free allotments. We could do with having some names on our waiting list. If you would like to be put on this list (this is also open to Cranwich and Ickburgh residents) please send your name, address and telephone number to the Parish Office. ...
Read More »
---