On Saturday 1st June, villagers and members of Mundford Parish Council gathered on the village green to bury a time capsule, full of items and information relating to the village in the Jubilee year.
In 2007, an initial time capsule was buried on the village green to signify 1000 years of the village, placed under a 1.3t boulder. Gavin Cater of Northwold kindly used his heavy-lifting equipment to move the boulder, allowing councillors to dig down and bury the new capsule alongside the original.
Items placed inside the new capsule included a 50 page folder, full of pictures of the village, a review of Mundford's Jubilee celebrations, minutes of a recent Parish Council meeting, a copy of the current register of electors, a review of the recent STANTA tour, & details and photographs of the church, village groups & organisations & shops. Some people contributed personal views of village life and their families, and there was information and newspaper cuttings highlighting the Football Club's victorious season, when they gained promotion into Senior football for only the second time in their history, and played at Carrow Road, the home of Norwich City.
Thank you to all those that contributed items for the time capsule, and to the volunteers including council members that took the time to make this such a memorable event.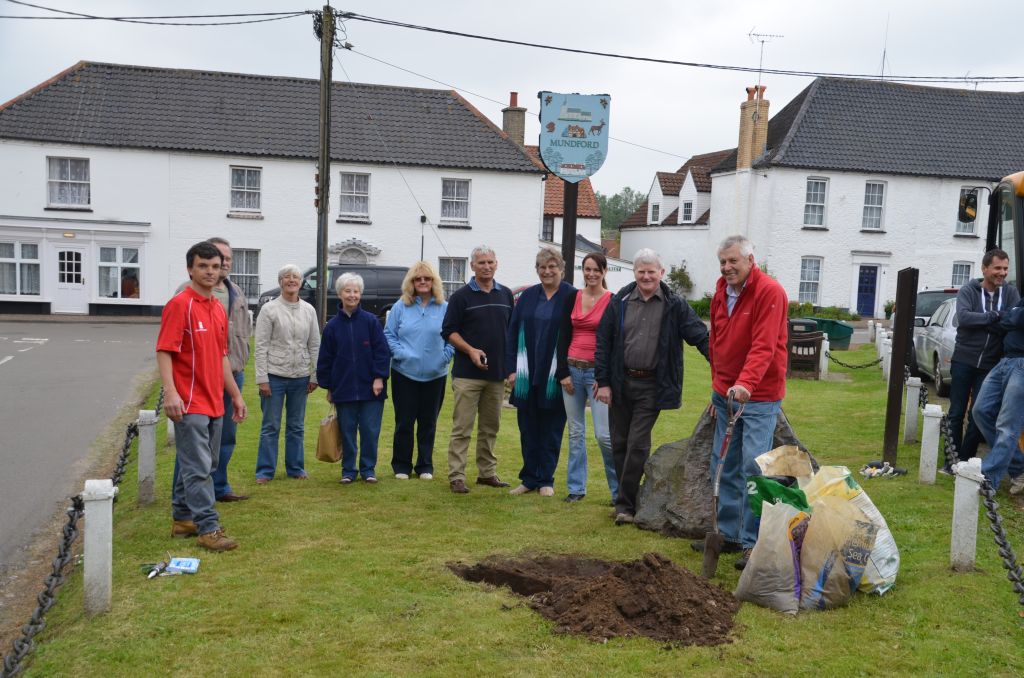 View more images of of the time capsule burial here and a pdf report with all the images here.